Message from the President of OAFLAD: H.E Madam Antoinette Sassou-Nguesso First Lady of the Republic of Congo, on the occasion of International Women's Day.
At the High Level Meeting on Noncommunicable Diseases at the UN General Assembly in 2018 my predecessor Her Excellency Madame Sika Kaboré, First Lady of Burkina Faso launched the vision of an OAFLAD road map to address women's cancers in Africa.
OAFLAD has continued our work in 2019, with a series of national workshops in Ghana, Kenya and Zambia and collaboration with Union for International Cancer Control (UICC) on a francophone African partnership.
We look forward to sharing our OAFLAD women's cancers road map in a dedicated session at the upcoming World Cancer Congress 2020, in Muscat, Oman 01-04 October.
Why?
Breast and cervical cancer are dominating the cancer landscape in Africa. Breast cancer is the most commonly diagnosed cancer type with approximately 168,690 new cases in 2018 and the leading cause of cancer in women in 30 of the 54 African countries. Cervical cancer is the second most common cancer and the leading cause of cancer death in African women, topping the ranking in 24 of 54 countries. In 2018, an estimated 119,92 newly diagnosed cases (Ferlay et al. 2018).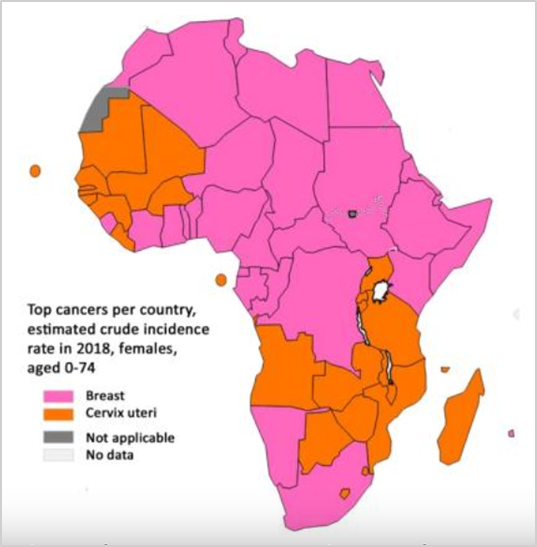 Figure: Cancer in Sub-Saharan Africa Volume III
D.M: Parkin et al. 2019 UICC
Over one third of all cervical cancer deaths globally occur in sub-Saharan Africa, though the region represents only 14% of the world's female population.
Survival of women diagnosed with breast cancer in sub-Saharan Africa also delineates the inequities we need to face in our region, according to the 2020 Cancer Atlas, women living in HDI countries can enjoy 50% higher survival rates than women residing in LDI countries.
On the occasion of International Women's Day, we launch a dedicated Call to Action in partnership with the African Organisation for Research and Treatment in Cancer (AORTIC) and other supporters. We are appealing to all stakeholders to sign up to the global ambition to accelerate national actions towards the elimination of cervical cancer as a public health concern.
Calling for a step change in addressing cancer in Africa
Women, Children and Adolescents bear the greatest burden of ill health and preventable deaths, including cancer further exacerbating the global divide between rich and poor countries in the incidence and mortality of NCDs and cancer. Meeting their needs by prioritizing prevention, early diagnosis and timely treatment of priority cancers are essential for achieving Universal Health Coverage (UHC) we call on all Heads of State to take national action aligned with global 2025 Non-communicable Diseases targets and the 2030 Sustainable Development Goals.
We want all African women, children and adolescents to have their rightful opportunity to access life-saving cancer services with financial protection that minimizes the catastrophic expenditure which plunges so many families into or further into poverty. No one should have to choose between having a life-saving treatment and whether to put food on the table.
The WHO global action plan on cancer and other non-communicable diseases outlines priority actions to prevent and control cancer based on proven efficacy and cost-effectiveness. Action on breast, cervical and the most common cancers in children are included as these cancers can be detected early and treated, potentially to cure. The tragedy is that these WHO recommended solutions are not available and affordable to those Africans in greatest need, women and children living in low and middle income countries. The divide between rich and poor between countries, and within countries is driving unacceptable inequalities.
Action on these priority cancers now will save lives now and contribute to the Sustainable Development goals and the health goal 3.4 of reducing mortality due to cancer and other NCDs by 30%.
We call on all African countries to:
Strive to reach the goal of 60% survival rate for children with cancer by 2030 laid out in the WHO Global Initiative for Childhood Cancer3
Start with global breast cancer awareness month in October to build community awareness, reduce stigma and ensure that advanced disease has a share of voice4
Step up and stop, cervical cancer, acting decisively for a national response to the 90:70:90 elimination targets in the emerging WHO global strategy towards elimination of cervical cancer and put us on the pathway to closing this divide.
Translating these global initiatives to national action across the African continent will:
bring momentum to integration of cancer services with those for child, sexual and reproductive health and HIV;
build cancer literacy in communities, reducing stigma and changing attitudes which are often a barrier to individuals seeking help for symptoms that could be cancer and
strengthen health systems by equipping countries with knowledgeable community health workers and robust referral pathways. These steps ensure precious time is not lost connecting women and children with cancer with a confirmatory diagnosis and timely treatment that can give them the opportunity to beat these cancers and reduce unnecessary and unspoken suffering and pain that dying from cancer means in too many countries.
In September 2019 the United Nations high-level meeting 'Universal Health Coverage: Moving Together to Build a Healthier World', brought together heads of state, political and health leaders, policy-makers, and universal health coverage champions to advocate for health for all and leaving no one behind. We urge that all stakeholder take actions with impact so that at the follow-up high level meeting on UHC scheduled for 2023, we have real progress to report in all of our countries.
Join us and express your commitments to work with us towards the 2022, 2025 and 2030 milestones.
We have no time to waste. Africa has the highest burden countries, particularly with HIV-HPV co-infection driving this burden, which is set to double by 2040 if we take no action. However, it is also our communities stand to uniquely benefit from the early impact of stepping up to the 90:70:90 targets of the WHO Global Strategy.
We are calling on all African leaders to face the rising cervical cancer burden in our mothers, sisters and daughters. It does not have to be this way – cervical cancer is a preventable and treatable cancer. Taking on the cervical cancer problem is a pre-requisite to addressing the social and economic inequities in our society, stimulating economic growth and contributing to sustainable development.
The Call to Action is available in English, French and Portuguese:Here

Show your support by signing our petition.  Visit the AORTIC webpage