We are equal. Working together,
our society can be too.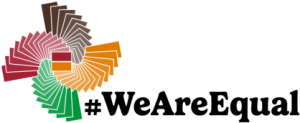 Closing the gender gap in Africa is not an act of charity for girls and women, but an act of justice and common sense that will benefit us all.
We are equal. Yet today, many young girls and boys grow up seeing otherwise, hearing otherwise, and learning to believe otherwise. It is easy to forget that we are equal when our rights – to health care, education, economic opportunities, and freedom from violence – are not always treated the same.
This is both unjust and unwise. Achieving gender equality is critical to driving social and economic progress for all and building the world that we want. As a society, we cannot move forward to achieve these goals if we are only lifting one foot off the ground.
The good news: We have proven solutions to build an equal society. Now, let us work together to complete the task and build a future that enables all Africans to thrive. Join us.
#WeAreEqual brings together African First Ladies, partners, and allies to advance gender equity and close the gender gap across the continent. Led by the Organisation of African First Ladies for Development (OAFLAD), the campaign drives home an essential truth: We are equal — and always have been. Our health care, education, economic opportunities and freedom from violence should be equal too. By working together to dismantle the barriers that hold women and girls back, we can build a future that enables all Africans to thrive
The Four Pillars of #WeAreEqual



Take Action
Primary Hashtag: #WeAreEqual
Secondary Hashtag: #GenderEquality
Handle: Tag @OAFLAD to help amplify your posts
We need your support: Join the #WeAreEqual campaign and add your voice to the movement. Use your platform to raise awareness about the power of gender equity and call on our leaders to take action today. Together, we can create a future where gender equity is not only a goal but a lived reality for everyone.
More content coming soon!